Hi guys!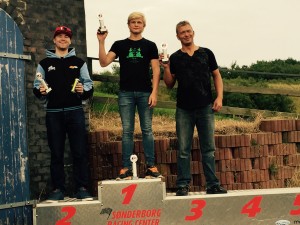 You might wonder why Rasmus hasn't been so active at this point.
Well, last time he was out on his bike, he managed to get an overall 2nd place at a round of the Danish Supermoto A Championship!
He is super happy about that because he's been struggling with some health problems since after the first round of the Danish Championship.
Below you will find a few Q&A's to why the news-feed from Rasmus has been off lately.
What has kept you out from racing for the most of the season?
At first we couldn't figure out what was wrong.
It began shortly after Round 1 of the Danish Championship, where I started to get pain in my elbows and hip. Short after I started to feel pain in various joints in my body.
After a long time going in and out of the hospital and getting pretty powerful medication, the doctors came to the conclusion that it might be arthritis-related. But in which variation and strenght it was, they couldn't determine. The only answer I was given was "Time is your best friend".
This is now a little over 4 months ago and during that time I have – together with my girlfriend – tried various diets and supplements to increase my chances of getting better fast!
My current condition is still slightly fluctuating but overall my health gets better and better!
I have also started some rehabilitation together with Dennis Rasmussen from Perfomance Gym, Svendborg about a month ago, to enhance my chances of getting on to ASAP.
This has already proven to be good, as I finished 1st at a Supermoto race in Racetour, Denmark as well as a 2nd overall at Round 5 of the Danish Supermoto A Championship.
So, what's the plan now?
I still stick to my overall plan: Danish Championship this year and German Championship for the 2016 season.
As for my training and rehabilitation I will continue to work with Dennis Rasmussen during the winter to get my physical fitness back.
What about the new team?
I will also still be in Supermotostore Racing Team for the next season.
The team owner was sad to hear about my condition, but he is happy that I will continue to fight and get back on the bike.
I am so grateful to have Andre Raab from Supermotostore.de, Erki.dk – the Danish Rock Oil importer, Falco Boots, Rilesa ApS and Compactree, Dennis Rasmussen from Performance Gym and last but not least my girlfriend! Without these people I wouldn't have been able to get through this – and I hope you will be there just as much next year!
/ Priergaard Racing