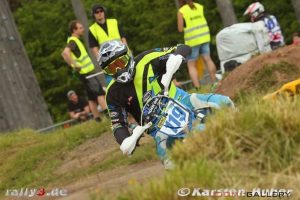 Again, this year the South German city Sankt Wendel, not far from the border of France and Luxembourg, would be host for a round of the German Supermoto Championship.
After Round 1 of the Championship Rasmus was placed 2nd overall in the championship standings in the P3-class with some solid heats of 2nd and 4th on a foreign bike.
Saturday:
The weekend started off with two times free practice which both didn't go as planned. Rasmus stated that he was not completely confident on the bike after over a month away from it where it had some engine tuning done in the meantime. That meant the placements of 22nd and 20th.
After the lunch break it was time for timed practice. During the break the team had done some adjustments to the suspension and changed to a new set of tires. That showed to pay off as Rasmus was able to end the timed practice with a start position 8 on second row of the start grid.
Sunday:
Saturdays qualify placed Rasmus 8th on the start grid in row two to the inside to turn one.
Heat 1 – The lights went out and Rasmus got a really good start. After a couple of turns and some traffic, he was on a sharp 5th place. Unfortunately, he dropped the bike on the exit of the off-road but was quick on the bike again and could race to the finish in a good 9th place.
Heat 2 – Rasmus is a good starter – that came to show in this start as well as he was up in the front again. Sadly the opponent in front of him braked a little early so Rasmus had to go hard on the brakes which led to a stalled engine. When he had the engine running again the last part of the field was coming out from the off-road! The track was now set for a solo-race against the clock in fight to keep some points in the championship.
Rasmus fought strong throughout the heat and despite the track was difficult to overtake on, he crossed the finish line in a solid 18. Place with some points.
Summary:
Rasmus is now placed 6th in the championship standings after a good 9th and 18th place despite a weekend with many challenges. He is ready for round 2 of the Danish Supermoto Championship next weekend. Here many racers from Sweden and Norway will attend, as they will have their first championship round the same weekend. This will give a lot of good training and racing with other competent Nordic riders!
Thanks a lot to all of my sponsors, my girlfriend and the German Supermotostore Racing Team which has taken me under their wings. Rasmus Priergaard will be ready for battle at the next round of the German Supermoto Championship round at the airfield of Grossenhain on the 18-19th of June.
/ Priergaard Racing