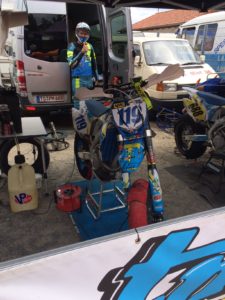 For at læse opdateringen på dansk – tryk læs mere!
Rasmus was at the previous weekend in the Southern Germany, where he would try to catch up on some of the lost two races ago.
The weekend's race was held at Fahr-Werk Odenwaldring just outside of the city Schaafheim. In the daily, it's a dedicated karting track but at this event the track was built together with a nearby motocross track which gave the ideal conditions for Supermoto racing.
Two years ago, Rasmus was on this track but with a different layout. Therefore, the first couple of free practices on Saturday went with getting to know the layout. However, he had to kiss the ground in the beginning of second free practice, which had a missing rear brake as a result the rest of the session – this gave the opportunity to get a feel of how hard you can brake by only using the front brake in the off-road!
A good feeling began to show at the end of the practice session but it wasn't better than a 10th place in the qualify despite a 3rd place at the first practice session of the day.
Both of the races were held Sunday.
The weather on Sunday was like Saturday – on point! But with fine dust spread around the asphalt of the karting track, it didn't make it easier for the riders.
The Warm-up session in the morning went really good with a second best laptime for Rasmus and better than his qualification time!
Race 1:
Rasmus was starting from the third row on the grid, which gave some challenges when the red lights went off.
The start was not the best and Rasmus was pushed some places back. The first couple of corners was filled with pushing, shoving and lots of elbow. When the field had sorted out a bit, the hunt for placements began. With aggressive riding Rasmus succeeded to get some positions back on an otherwise difficult track to pass on. However, Rasmus was unlucky to stall the bike in an attempt to outbrake some opponents in the off-road. When he got the bike going again, he was close to dead last.
The hunt for positions restarted and when he saw the checkered, it was on place 20.
Race 2:
Rasmus was better off the start but was pinched in the first corner again. Later during the race he managed to get back some positions and when he crossed the finish line it was on a strong 7th place!
Overall a good weekend despite a long time off the bike and a track not among the favorites.
Rasmus still keeps his 4th place in the championship standings.
In the time of writing we are sitting on the ferry Jutlandica on the way to the next round of the Danish Championship – this time on the track of Borås near Gothenburg, Sweden.
Den forgangne weekend var Rasmus i det sydtyske, hvor han skulle prøve at indhente noget af det tabte fra forrige løb.
Denne weekend skulle køres på Fahr-Werk Odenwaldring i Schaafheim. Til daglig en dedikeret gokartbane, men var i weekendens anledning bygget sammen med en del af den nærliggende motocrossbane. Dette skabte de helt perfekte omstændigheder for Supermoto sporten.
For to år siden var Rasmus på samme bane, dog med andet banelayout. Derfor gik de første par træninger om lørdagen med at lære banen at kende. Han måtte dog en tur i jorden i starten af andet træningspas, hvilket resulterede i at resten af passet blev kørt med defekt bagbremsepedal – her fik man virkeligt afprøvet, hvor hårdt der kan bremses med forbremsen i offroaden!
Følingen begyndte at komme i slutningen af træningspasset, men det rakte dog ikke til mere end en 10. plads i tidskvallen trods en 3. plads i første frie træning.
Begge løb skulle denne weekend køres søndag.
Vejret søndag var ligesom lørdag – helt i top! Men med fint støv fordelt ud over gokartbanens asfalt, gjorde ikke just betingelserne bedre for kørerne.
Morgenens warm-up gik rigtig godt og der blev fundet et godt flow klar til dagens to løb – her var Rasmus 2. hurtigst med en bedre omgangstid end i kvalifikationen dagen inden!
Race1:
Rasmus skulle starte fra tredje startrække, hvilket gav nogle udfordringer da de røde lamper slukkede.
Starten var ikke den bedste og Rasmus blev skubbet et par placeringer bagud. I de første par sving blev der presset, skubbet og brugt godt med albuer. Da feltet havde fordelt sig en smule, begyndte jagten på de tabte placeringer. Med aggressiv kørsel lykkedes det hurtigt at hente et par placeringer på en bane der ellers er meget svær at overhale på. Dog var Rasmus så uheldig at bremse cyklen i stå i et forsøg på at udbremse et par kørere i jordsektionen. Da han fik gang i cyklen var han tæt på sidstepladsen.
Nu gik jagten atter en gang ind for at indhente de tabte placeringer og da Rasmus krydsede målstregen, var det som nummer 20.
Race 2:
Rasmus kom her bedre fra start, men blev igen klemt i første sving. Senere i løbet fik han dog kørt nogle placeringer ind og da det ternede flag var i sigte, lå Rasmus på en flot 7. plads!
Alt i alt en ok weekend trods lang tid væk fra cyklen og en bane der ikke just er blandt favoritterne.
Rasmus beholder sin 4. plads i det samlede mesterskab.
Vi sidder i skrivende stund på færgen Jutlandica, på vej mod næste afdeling af DM, denne gang på banen i Borås nær Göteborg, Sverige.